August 22, 2017
"Connecting Our Ozark Stream" - Duane Hada, Guest speaker - 5:30 p.m. - 6:30 p.m. - Boone County Library
In conjunction with Friends of the North Fork and White Rivers, BNRP will host "Connecting Our Ozark Streams," presented by Duane Hada.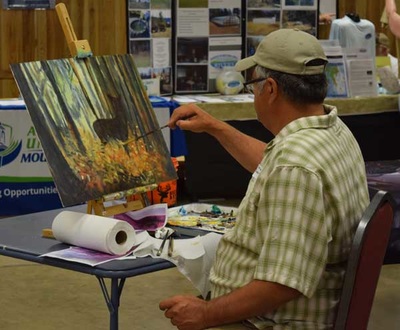 Duane and the Ozark's White River are both uniquely special "ones of a kind" – Duane's superb collection of watercolors is a wonderful union of the two. He has spent most of his life on our Ozark streams and this remarkable watershed learning, fly fishing, guiding and, with his artist's eye capturing so many of its extraordinary places. Come, meet Duane, and listen as he takes us into our Ozarks with their own beauty, mood and soul.
Mr. Hada holds a BSE in Art from the University of Central Arkansas. He has also received certification from the Federation of Fly Fishers as an instructor. He has taught numerous courses and workshops at local colleges and universities in fly fishing and art. His various slide presentation programs are popular with fly fishing clubs and conservation organizations.
His art will be displayed in the mezzanine of the Boone County library for the month of August. To find out more about his art and his gallery, Rivertown Gallery in Mountain Home, see his website: http://www.rivertowngallery.com/
To read more about Duane's passion for flyfishing and the care of our Ozark streams, please see Friends Spring 2017 newsletter.