October 08, 2017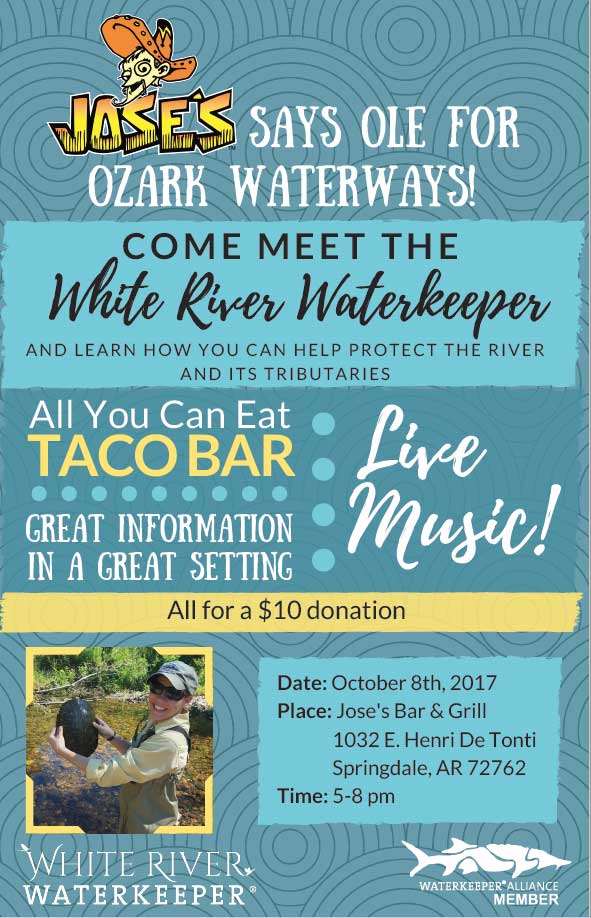 Ole for Ozark Waterways
Come meet Jessie Green - White River Waterkeeper - Sunday, October 8
Jose's Bar & Grill - 5 - 8 p.m.
1032 E. Henri De Tonti, Springdale, AR 72762
Talk with others about water quality concerns within the White River watershed and White River Waterkeeper's plans to protect and improve Ozark waterways. Live music and all you can eat taco bar, all for a $10 donation!
A note from Jessie... We need your help to ensure our waterways remain drinkable, fishable, and swimmable. With the dismantling of the EPA and inadequate considerations and protections at the state level, it's up to citizens to demand that scientific evidence is put before special interests when it comes to matters of our health and quality of life. Join us for an evening of great discussion and learn about the integral roles a Waterkeeper plays and how you can get involved in taking action to protect the waterbodies we all rely on.

White River Waterkeeper is a 501(c)(3) nonprofit organization focused on protecting the public health and natural resources of the White River watershed through advocacy, education, and research. As members of the international organization, Waterkeeper Alliance, we are dedicated to the belief that clean water should be viewed as an unequivocal right for everyone.
To learn more, visit www.whiteriverwaterkeeper.org.