October 05, 2018 - October 06, 2018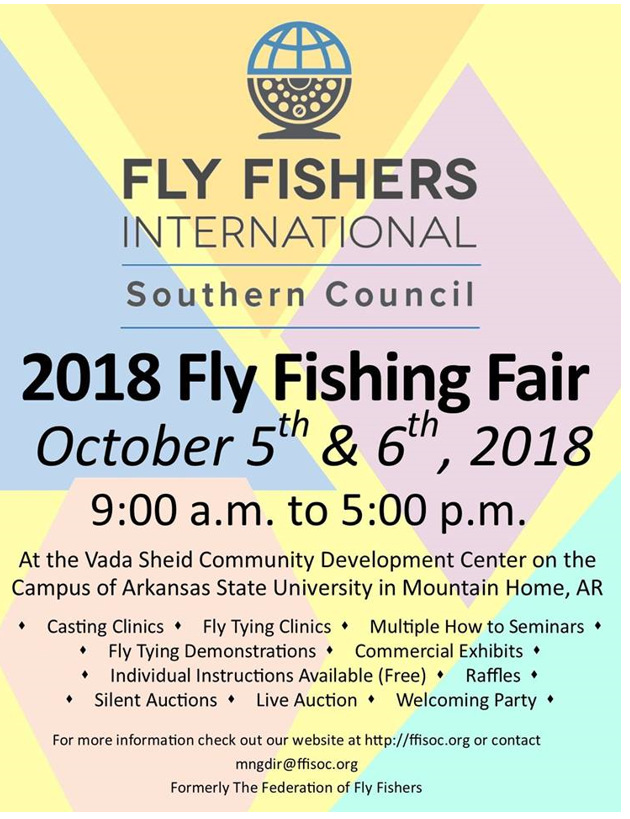 Fly Fishing Fair - Friday and Saturday, October 5 and 6.
Come visit our booth at this event that promotes the role of fly-fishing in the conservation, education and restoration our streams and rivers. Hosted by the Southern Council of the Fly Fishing Federation this fair brings experience, fun and information to sports newcomers as well as seasoned fishers from over 8 states.
Learn how you can help protect our water resources that provide the opportunities for us all to enjoy this sport...
Visit Friends of the Rivers booth in the Vada Sheid on the Arkansas State University Campus, Mountain Home.
Program head liner, Chad Johnson, takes the lead with streamer tying classes including how to tie, how to fish plus some other fascinating topics.
Other program opportunities include (some require fees) -
How to Operate a River Boat - with Gary Flippin and John Berry
How to handle a kayak - Ozark Mountain Trading Company
Painting a Fish - with Duane Hada
Two Handed Spey Casting - Chuck Easterling and Jim Penrod
Prep Class for Casting Certification - Chuck Easterling and Jim Penrod.
Streamer Fishing - How To: Chad Johnson
Two fly tying classes yet to be determined.