August 27, 2019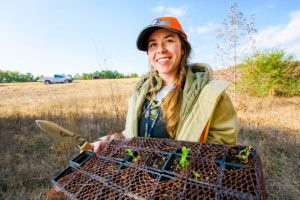 Buffalo National River Partners presents Kayti Ewing
Wetland and Stream Mitigation Banking for ArDOT Projects, Kayti Ewing
August 27 @ 5:30 pm - 6:30 pm
Boone County Library ~ 221 W. Stephenson, Harrison, AR,
Kayti is a botanist with the Arkansas State Highway and Transportation Department's Environmental Division. At AHTD, she oversees the Department's several Wildflower Programs, consults with USFWS regarding endangered and threatened species (namely plants), and performs wetland and stream impact assessments in order to obtain the proper 404 permit. She was born and raised in Harrison, Arkansas. She has a B.S. in Botany and an M.A. in Geography, both from the University of Oklahoma. For her thesis, she developed a Floristic Quality Assessment (FQA) for Oklahoma wetlands. An FQA is tool used to evaluate and determine the quality (or degree of pristineness) of wetland habitats based on the vegetation present at a site.

The Arkansas Department of Transportation (ArDOT) is federally mandated to comply with several environmental regulations prior to the construction of any highway project. In this presentation, Kayti will discuss Section 404 of the Clean Water Act, and, specifically, explain Compensatory Mitigation for Losses of Aquatic Resources and the Final Mitigation Rule. This topic is may be relatively unknown by ArDOT which owns approximately 6,000 acres of mitigation properties across the state. How the sites are selected, restored, monitored, and maintained will be discussed as well as potential restoration techniques. Information and pictures on some late summer/fall wildflowers found in and around the Buffalo National River will be shared as well.
Please come!