Recycling - Here's the Why, How and Where
Why Recycle?

Landfills: Recycling reduces landfill requirements. Landfills are expensive to operate and difficult to maintain in an environmentally safe manner. This is particularly true in a karst area such as we have in this area. Glass is 100% recyclable, but in a landfill it will never decompose. Aluminum is 100% recyclable, but an aluminum can takes 200 to 500 years to decompose. Plastics take 500 years to decompose. More than 60% of what Americans now discard in landfills could be recycled instead.
Air Quality: If 30% of the national population recycles, this has an effect equivalent to removing 25,000,000 cars from the road and their resulting greenhouse gas.
Trees: Every ton of recycled paper saves 18 trees. Currently recycled paper supplies more than 37% of the raw materials to make new paper products in the USA.
Energy Savings: Recycled aluminum takes 95% less energy than raw products do to manufacture new aluminum products.
Energy Savings: Recycling one glass bottle saves enough energy to light a lightbulb for 4 hours. Recycling one tin can saves enough energy to power a TV for 3 hours.
Pollution: Recycling significantly reduces both air and water pollution, reduces water use, and reduces use of raw materials.
Preserve Ocean Life: A plastic bag that ends up in the ocean looks like a jellyfish to a sea turtle, who will eat it and die. Between 60-80% of marine trash is plastic - 80% of which comes from land-based debris.
Steps to Take:
For curbside pickup within a city providing this service: Use clear trash bags or provided recycling tub.
For county residents who want curbside pickup: Consider Start2Start Recycling or a similar fee-based service.
For drop-off: Set up containers to separate paper, plastic/metal, cardboard, and glass.
Consider composting non-meat food waste.
Save clean plastic bags and plastic films like Saran wrap, and use the special recycling bins near the front entrances of more than 18,000 USA stores including Lowes, Walmart, Target, and Harps. They cannot be recycled in typical recycling centers.

Set a goal: Such as to reduce garbage at home to one can or one garbage bag per week. In our family, we strive for one large garbage bag every two weeks.
Websites for recycling in Friends' 5-county area:
Marion County: http://marioncounty.arkansas.gov/transfer-recycling or http://ozarkmountainsolidwaste.com/marion1
Baxter County: http://ozarkmountainsolidwaste.com/baxter or www.cityofmountainhome.com/recycling.html
Izard County: http://www.izardcountysheriff.org/press_view.php?id=359
Izard, Independence, & Stone County: http://www.whiteriverswmd.org/recycling-programs
Drug disposal for any county in Arkansas: http://www.artakeback.org/search-collection-sites#sthash.PBzp32ys.9sPR427e.dpbs
Information Specific to Baxter County:
Baxter Day Service Center* - Baxter Recycling - 1306 Rossi Rd - Drop-off 24-7
Glass, newsprint, magazines and plastic/metal containers, electronic equipments (no small appliances) No mirror, auto glass, or styrofoam. Includes the items listed about plus electronic equipment (no small appliances) and glass bottles (no porcelain). (Also, no mirrors, auto glass, or Styrofoam).
*We are very fortunate to have the non-profit corporation Baxter Day Service Center (BDSC) running Baxter Recycling. Begun in 1971, BDSC is financially supported by the Arkansas Dept. of Human Services, Medicaid, contributions, and bequests/wills. The mission is to help provide positive experiences for developmentally challenged individuals. In our family, we have found the workers to be cooperative, friendly, and dedicated. For us, delivering our recycled items is a satisfying experience.
Other opportunities for recycling in Baxter County include:
Start2Start Recycling: http://www.s2srecycling.com/
Methvin Sanitation: In Mountain Home Residential curbside pick-up for cardboard, paper, plastic bottles, aluminum cans, tin cans. Yard waste pick-up is on Fridays only.
Cotter and Gassville Recycling Schedules: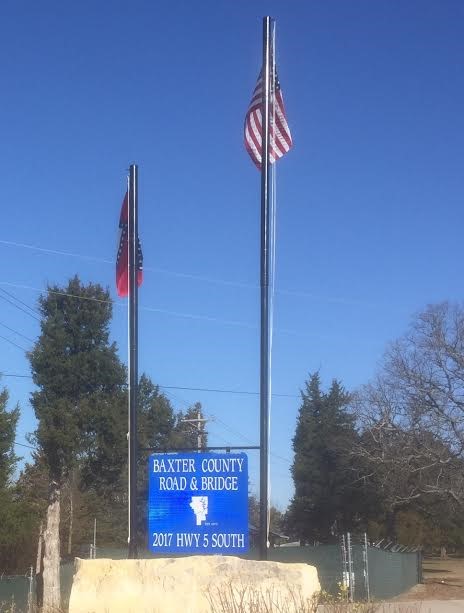 Hazardous waste disposal site in Baxter County
Baxter County Road & Bridge at 2017 Hwy 5 South from 8am to 12 noon on Mondays: Hazardous waste such as aerosols, batteries, compressed gas cylinders, fuel, oil, paint, cleaners, fire extinguishers, antifreeze, fertilizers, and electronics. More information can be found at http://baxtercountyroadandbridge.com/hazmat.php
Prescription drugs and Over-the-counter Medication Disposal
Permanent drop boxes located at Baxter County Sheriff's Dept. (904 Hwy 62W. Mountain Home) and Mountain Home Police Dept. (424 West 7th Street).
Stop junk mail. Ask to be removed from mailing lists by writing
Mail Preference Service
Direct Marketing Association
P.O. Box 9008
Farmingdale, NY 11735-9008
Article by Bruce W. Burr, board member of Friends of the White and North Fork Rivers, 3/6/2017
---
ACT NOW AND MAKE A DIFFERENCE