May 27, 2018
Float and Boil are Full. You can still support the efforts of Friends of the Rivers with the purchase of a chance to win a Duane Hada painting or guided fishing trip with Gabe Levin. Online sale option will load to the right in just a minute.

Crooked Creek Clean-Up
Kelly's Access in Yellville - 12:30 p.m.
Enjoy a half day float with Friends on Crooked Creek scouring banks for trash. Floaters provide their own flotation device and beverages for the trip. We provide trash bags and volunteers to assist with shuttles. This event is free to participants. We do need you to register in advance for planning purposes.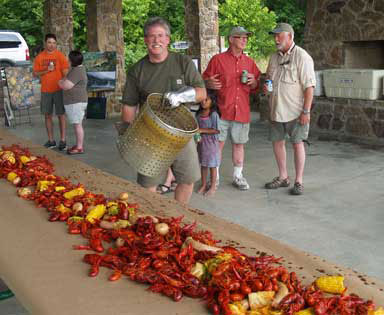 Crawfish Boil
Fred Berry Pavilion in Yellville - 5:30 p.m.
Plan to gather at the Fred Berry Pavilion for an authentic crawfish boil produced by David Lemoine. Indulge in the spicy crustacean, sausage, potato and corn on the cob. (Grilled hamburgers are an option for those who do not care for crawfish.) Musical entertainment and a raffle for a plein air painting by Duane Hada and a guided fishing trip with Gabe Levin are also on the schedule. This is our annual fund-raising event. Tickets are required.

More about the guide trip here.

Friends of the North Fork and White River raise funds to enhance Watershed Education and start Stream Teams throughout the five counties of Friends focus - Baxter, Marion, Izard, Stone and Independence counties.

---