Dry Run Creek Program for Youth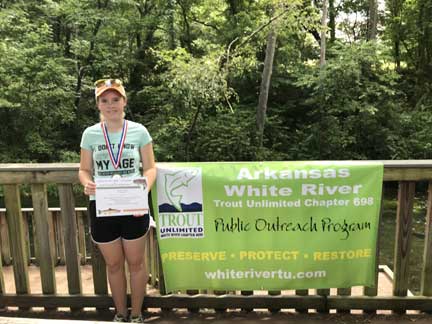 The Dry Run Creek youth trout fishing and education program 2020 season on Dry Run Creek is currently postponed due to social distancing. This program is sponsored by Arkansas White River Chapter 698 Trout Unlimited and Friends of the North Fork and White Rivers.

The program includes learning basic fly fishing, catching world class trout and an introduction to macroinvertebrates that live in Dry Run Creek. These are favorite trout food and include aquatic sowbugs, scuds, aquatic worms and leaches.

Youth must be under the age of 16, accompanied by an adult and able to handle a "tenkara" fly rod. A tenkara rod has no reel and is much easier to fish than a traditional fly rod.

No equipment or previous experience is needed.

Over 200 youth took advantage of the Dry Run Creek Youth Program in 2018.

If you would like to learn more about this program or schedule a time to attend, please contact Steve Blumreich at 417-839-0193 or sblum1326@gmail.com
There is no cost for participation.

---
ACT NOW AND MAKE A DIFFERENCE