Spring Newsletter - 2018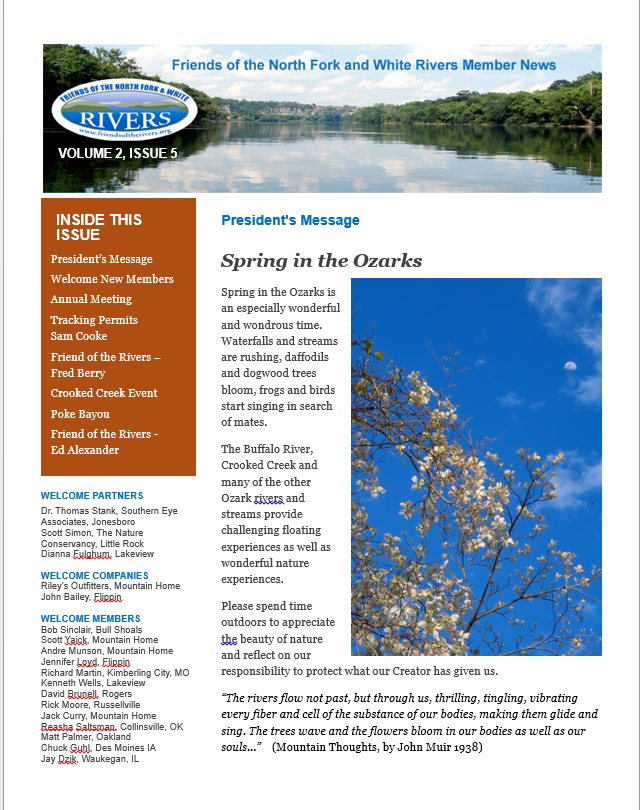 The following Friends of theNorth Fork and White Rivers newsletter describes how we work together toprotect our watersheds through education, public outreach, stream clean ups andhonoring our Friends that contribute their time, efforts, talents and financialresources. Please remember to thank them and help Friends increase our effortsto protect our watersheds.
Join us on Sunday May, 27 for our annual Crooked Creek Clean-up and Crawfish Boil. More information here. Even if you don't float you can come and celebrate our beautiful Crooked Creek.
This newsletter also discusses other upcoming events, including Bonneville trout egg planting, the TU youthcamp and the Audubon summer camp.
Thank you for your supportand I ask for your help to protect our wondrous watersheds. We are currentlylooking for help with membership records and communications, website contentposting and social media.
Please call, text or email meabout how you can help with our efforts or have questions about Friends of theNorth Fork and White Rivers.
Steve Blumreich
President
Friends of the North Fork andWhite Rivers
417-839-0193