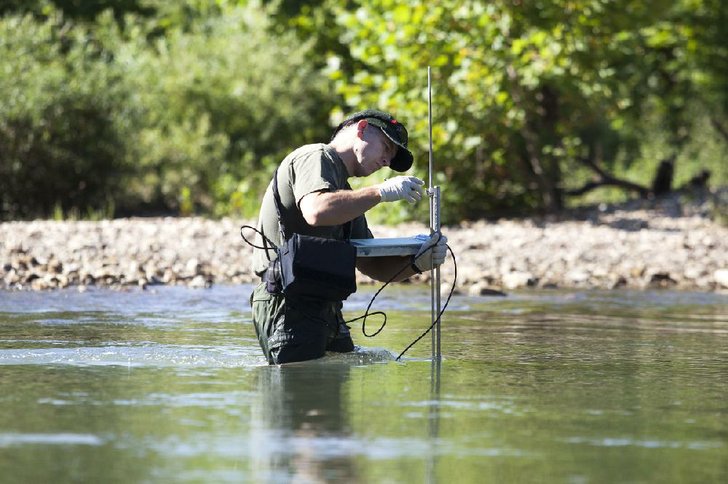 The country's first national river is impaired, according to Arkansas environmental regulators.
The Buffalo National River and Big Creek, a nearly 19-mile tributary of the river, are categorized as impaired in part because of pathogens, or disease-causing bacteria, according to the Arkansas Department of Environmental Quality's draft list of impaired water bodies, or waters not meeting state water quality standards, released Thursday.

Only a 14.3-mile segment toward the middle of the 150-mile river is impaired, meaning the amount of pathogens exceeds water-quality standards. The rest of the river is not listed as impaired.
About 15 miles of Big Creek is also categorized as impaired, again because of pathogens, and the final 3.7 miles of the creek before it flows into the Buffalo is listed as impaired because of abnormally low dissolved oxygen levels but not for the presence of pathogens. The source of the pathogens is unknown, according to the department's report.
The department released its biannual list of impaired waters, also known as the 303(d) list for the section of the federal Clean Water Act that requires it, as a draft Thursday. The agency is accepting public comments through Sept. 10, after which revisions will be considered before it is submitted to the U.S. Environmental Protection Agency for approval.

Photo by Ryan McGeeney FILE PHOTO: RYAN MCGEENEY/Arkansas Democrat-Gazette --07-28-2014-- Faron Usrey, an aquatic ecologist with the Buffalo National River, collects water quality samples from the river at its confluence with Big Creek, a major tributary to the river.
Read the complete article here http://www.arkansasonline.com/news/2018/jul/27/14-3-mile-section-of-buffalo-river-big-/