News from Trout Management Supervisor
Christy Graham
E-mail: Christy.Graham@agfc.ar.gov | P: (870) 424-5924 | M: (870) 404-0477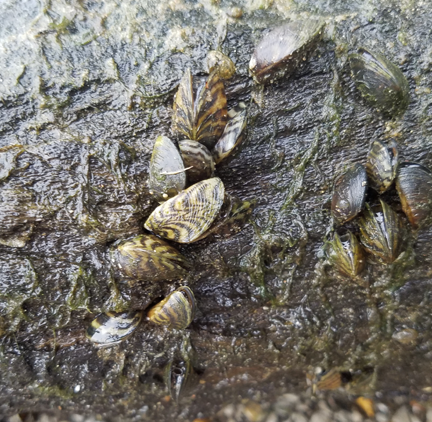 This week, while working on Bull Shoals Tailwater, we confirmed the presence of zebra mussels in the river.
Zebra mussels are an invasive species that have been present in Bull Shoals Lake since at least 2008, so their spread to the river is not a complete surprise. The number of zebra mussels appears highest directly below the dam, but we have already found them up to 8 miles below the dam. As we continue to do work this fall, we will look in additional areas further downstream. Zebra mussels are small and hatchet-shaped with alternating light and dark bands (see attached picture). They can attach to any hard surface, including boats, motors, and docks. On the lake, some boat owners have found them inside their lower units, which may be of concern to you resort and dock owners who leave your boats in the water.
Since zebra mussels were found on the lake, the district biologists have not documented any negative effects on the fish populations and we do not expect to see a negative effect on the trout populations either. However, due to the negatives from an aesthetic and maintenance standpoint, I would like to encourage you all to be vigilant in your efforts to prevent further spread of this invasive species to other waterbodies (such as Norfork Tailwater). They can be transported from one body of water to another through boats, trailers and other fishing equipment (i.e., waders, nets, etc.) and can stay alive for days in moist, dark live-wells and bilge areas. Although the adults are obvious to the naked eye, the larval form of zebra mussels, called veligers, are virtually impossible to see without a microscope.
Therefore, it is important to follow these tips in order to prevent the spread of both adult and larval zebra mussels (as well as other invasive species):
• Clean boats, trailers and other equipment thoroughly between fishing trips with 1) hot soapy water; 2) a high pressure washer; or 3) or a light bleach solution (1 cup bleach to 10 gallons water);
• Let boats, trailers and other equipment fully dry for 4 to 6 hours, preferably in the sun; be sure to remove all vegetation attached to your boat or trailer;
• Never move water, fish, or fish parts from one body of water to another;
• Tell other anglers and boaters about prevention and spread of invasive species.
Knowingly transporting this species and transporting them across state lines (such as to Lake Taneycomo) would be a federal violation. Please, be super careful that you have "cleaned, drained, and dried" your equipment before traveling to and from other locations.

Please let me know if you have any questions. Thanks!
Christy
Arkansas Game and Fish Commission
201 East 5th St. | Mountain Home, AR | 72653
O: (877) 425-7577 | F: (870) 425-6596
www.agfc.com