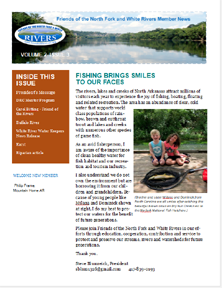 The Friends of the North Fork and White Rivers newsletter (at right) describes how we work together toprotect our watersheds through education, public outreach, stream clean ups and honoring our Friends that contribute their time, efforts, talents and financial resources.
If you are not currently a member of Friends of the Rivers, please join. We depend on membership dues to support our educational programs such as Stream Team testing, scholarships, DryRun Creek mentoring and our soon to be announced "Storm Drain Art" program.
This newsletter discusses the following:
Dry Run Creek youth mentoring program, a collaborative program with Trout Unlimited White River Chapter which teaches youth the importance of clean, healthy water for trout and macroinvertebrates while helping them catch wonderful trout

Carol Bitting our Friend on the River

Current issues facing our Buffalo National River and ways we can all help. Please use this link to see a news release from White River Waterkeeper regarding health threats posed by algal blooms in the water.

Trace Dye testing on Big Creek and Karst topography

How to protect riparian areas on the rivers while still enjoying the views.
Thank you for your support and I ask for your help to protect our wondrous watersheds.
Please call, text or email me about how you can help with our efforts or have questions about Friends of the North Fork and White Rivers.
Steve Blumreich
President
Friends of the North Fork andWhite Rivers
417-839-0193